DeGregorio Family Foundation
How Our Funds Turn Research Into Actions.
There are an estimated 46,000 new cases of Stomach and Esophageal Cancer in the U.S. each year. Each year, an estimated 27,000 are terminal.
2 of 3 people diagnosed with Stomach and Esophageal Cancers are not diagnosed until Stage 4.
Yet, less than 1% of the cancer research funded by NIH goes towards gastroesophageal cancer.
Your Impact and Follow-On Funding
For every $1 donated, $10 is generated in follow-on funding; turning research into action.
In 14 years, DFF has funded 19 grants for a total of $3.45 million.
Those 19 grants have received $30 million in follow-on funding.
Nine of those Grants received follow-on funding from the by NIH, where only approximately 5% of NIH applicants for gastroesophageal cancer research receive funding.
One of the Grants received the very prestigious Starr Foundation Grant for just under $1 million - it was a collaborative grant with Dana Farber and MSKCC led by Dr Shah.
What DeGregorio Family Foundation does
Early diagnosis is key.
Stage 1 has a 47 to 69% survival rate. Unfortunately, symptoms arise around stage 4 where the survival rate is 5%.
DFF is dedicated to facilitating collaborative research on the pathogenesis, early diagnosis, and treatment of Upper GI Malignancies.
Turning Fact Into Fiction™
100% of DFF funds go directly to research.
DeGregorio Family Foundation Scientific Advisory Board look for the best research that will attract follow-on funding.
Grant recipients provide progress reports, and attract follow-on funding to implement their research.
Doctors use research for early diagnosis
Learn About the Grants We Have Funded Thanks to Donors Like You.
More About Gastroesophageal Cancers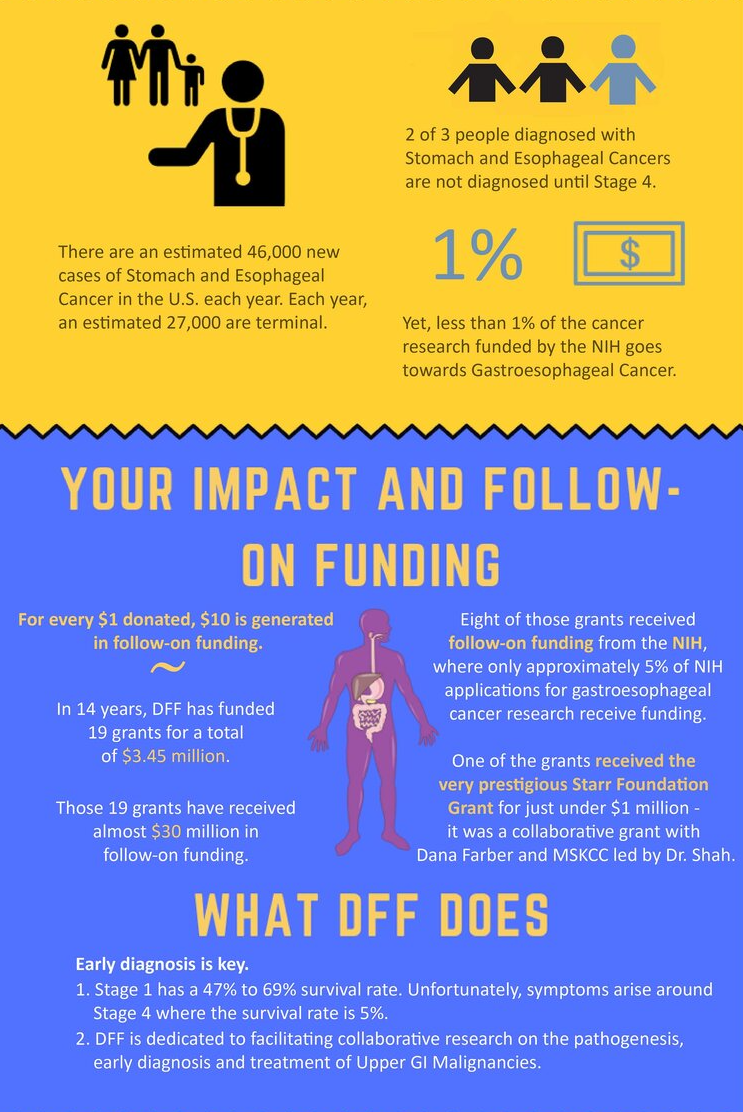 Follow our journey to a cure.
Subscribe to our updates.